Dear Alston,
It took only a few minutes after you died yesterday for the news to make it through your circle of friends, with the expected ripples around blogs and social networks. There has been quite a few tributes published in the last 24 hours and I'm sure they'll keep coming during the next days. I've been wanting to add my voice to the group of people who cared very much for you, yet I sit here in front of my computer… and I do not know what to say.
I cried when I found out the news yesterday, shortly after 3pm. I couldn't concentrate on work, or on anything else for that matter, so I decided to go sit outside, stare at the reddening maple trees in the yard, with the silly idea of « offering » you this view of a gorgeous Fall day. But even that simple intention could not materialize without a hitch: this was the time that my neighbor decided to mow his lawn and the moment was broken. I could imagine you yelling at him, telling him to shut off that fucking noise making machine because Martine was trying to have a quiet moment. Hearing your voice in my head made me smile.
We knew you were going to leave us. We'd known for months. But knowing doesn't seem to make it that much easier. When a group of us last saw you in August, you were so frail that we were all in shock, tiptoeing around you, trying to give our potluck session some kind of normalcy. It made me nervous because I figured that, with your personality, so frank, sometimes even blunt, you probably hated the idea of people tiptoeing around you. But I think you were in that energy conservation mode you had talked about on your blog, so I don't know that you were present enough with us on that day to realize that we were so nervous. It's not a big deal, really, but I hope you weren't too conscious of it. I hope the only thing you felt was all the caring and the love.
I gave you a hug outside of the car that day when Ed and I drove you back home. I felt privileged to have that extra time in your company on this short drive to Old Montreal. My arms could get around your entire body without any difficulty because you had gotten so thin. I got back in the car with tears in my eyes, and told Ed that I had a feeling this was going to be the last time we see you.
It was.
So what is left to say? Like everyone else, I want to say that I appreciated LOVED your dry sense of humor and that contagious laugh of yours. With your energy and vivacity, you could turn a boring gathering into a wild evening of drinking, laughing and loud, crazy talking. But one of the things that I admired the most about you was your ability to express yourself in writing. It was always there on your blog – you were quite the opinionated guy! – but it became more apparent after you got your cancer diagnosis three and a half years ago. The stuff you published then was powerful, naked and devoid of sentimentality, yet it was beautiful and well put together.
So instead of insisting on finding something special to say about you, I will let your words do the work. This is from a blog post you wrote on May 4th of 2010, on the 3rd anniversary of your diagnosis.
The past three years have been the most difficult of my life and the most rewarding. I wonder if that's the rule. I hope it is. It makes hard times bearable if you have something to show for those hard times. I certainly do; it's obvious. I may have lost my health and career, but I gained and strengthened friendships, published books, starred in movies, went on adventures, and changed my perspective. None of these things could have happened without these hard and trying ordeals. And I know that…let's put it this way: I know that I will continue to receive benefits.
Now I take it one day at a time. It's almost all that is left to me; the long-term is too nebulous. I sometimes feel as though I am going away on a trip somewhere at some point, and won't be able to enjoy certain things. For example, the entertainment centre that they are building in the Quartier des Spectacles in Montreal. They talk about this new Centre 2-22 (I think that's what they are calling it), and how it will have a new bistro and cultural groups with their HQs there, but I won't be able to see these things, because I won't be here. I'm going away. Elsewhere. Right now it just feels like some other city. Maybe a job transfer. No more Montreal. Maybe Helsinki? But as time wears on, I know it will feel…different.
I don't normally feel this way, and I certainly don't put it in these pages, but once in a while, especially on my anniversary, some candour is due. I hope I can stick around Montreal for a while. I do like it here.
Wherever you are, sweetheart, I hope you like it there.
With much love,
Your friend Martine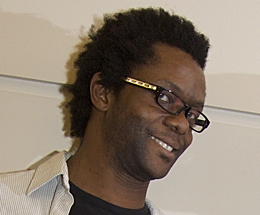 Alston Adams, November 8 1974 – October 4, 2010
Note:
A memorial service will be held for Alston on Friday October 8th, 2010 beginning at 3 pm. The service will be followed by a small reception. Kane & Fetterly Funeral Home, 5301 Decarie Boulevard H3W 3C4 (Metro Snowdon, Tel: 514.481.5301).